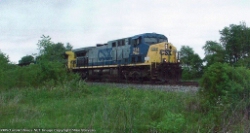 Welcome to the RRPictureArchives.NET contributor site of Mike Stevens.



Welcome!

Welcome to the railroad photography website of Mike Stevens. I've been absent from the world of Railfanning for the past few years, but I have some images and stuff that will be shared here as I get back into it. Here you'll find my collection of railroad photos as well as my collection of Train Gifs, which are images of locomotives and rolling stock drawn with Paint Shop Pro, Photoshop, GIMP, or almost any other image program. More to come soon, stay tuned!!

Mike Stevens
Railfan Photography and Video
CSXT8190@aol.com



You may browse my collection of pictures via the menu located on the left hand side of the page. I hope you enjoy the collection and thanks for stopping by!
Note: This site is best viewed in Internet Explorer 6.0 or above.
Select one of the links from the menu on the left to begin browsing the collection.